Thank you for visiting my web site. If you have any questions about my campaign, or if you would like to share your ideas and concerns about Indiana's future, please contact me.
I look forward to hearing from you.
The Indianapolis Star Endorses David O:
"Orentlicher deserves the nod for his four years of thoughtful initiative on such vital issues as child protection, education and health care. A professor of law and medicine with specialties in constitutional law and medical ethics, he brings a rare level of expertise to the office." October 19, 2006.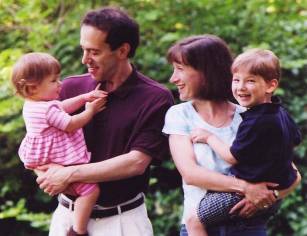 "It has been a great privilege to represent you in the State House since 2002. Thanks very much for giving me the opportunity to serve."

Our legislative website can be found at: http://www.in.gov/legislative/house_democrats/repsites/r86

Please join me the evening of Thursday, October 26th, for an evening of music, entertainment and lively discussion, hosted by Keni Washington, Jean Easter, and Jackie Nytes. For more details on this and other upcoming events, please click here.

____________________

A doctor, lawyer, and teacher, David Orentlicher is first a husband and father. He has worked for what's right for Indiana families--good jobs, strong schools, and affordable health care.

David and his wife Judy live with their son Cy and daughter Shayna in an older neighborhood on the northwest side of Indianapolis. Teachers at Indiana University, they are active in their city and their congregation. They believe that people build communities.

"I know that by working together, we Hoosiers can secure the good life that we already have and make it even better. That's why I'm running for re-election. And that's why I'm asking for your support."

See David Orentlicher's biography.
See David Orentlicher's position on various issues.
See David Orentlicher in the news.

Committee to Elect David Orentlicher
c/o David Gabovitch, Treasurer
6100 West 96th Street, Suite 250
Indianapolis, Indiana 46278
(317) 344-7382
Contact Us